Welcome to Twisted Dog! We welcome you to our yoga studio in Colchester and look forward to sharing our passion for yoga and healthy living. We are inspired by community and hope to learn and grow with you on our journey together towards a healthy mind, body and soul!
In addition to traditional studio classes, we offer livestreaming and outdoor / destination classes. For the most up-to-date information, please view our schedule.
All TDY regularly scheduled classes are available online, via livestream.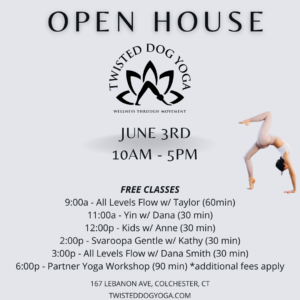 Attend Open House and sign up for KIDS classes or any of our upcoming workshops, receive 10% off!
WE'VE MOVED!
ALL classes will now be held at our new studio!
167 Lebanon Ave, Suite C
Colchester
Spring has finally sprung! As we anxiously await Mother Nature to usher in the warmer weather, we are excited to announce Twisted Dog Yoga is relocating! Our new studio is centrally located in Colchester (just down the road from our existing studio), light-filled. welcoming and spacious! We have been working hard this past month and a half to bring you a beautiful, community centric space to gather, move, breathe and relax. We are in LOVE with it and just know you will fall in love too.
We have a few more sessions of our children's program series (K-2), which you can register your child for as long as there is space, even if we're mid-series! We will be adding another series in June. Please be on the lookout for new Yoga + Wine dates (our next will be mid-April), as well as some other great workshops and events.
To kickoff our new studio opening, Kathy will be leading a gorgeous workshop to welcome in Spring, ending the afternoon with the beautiful sounds of Tibetan singing bowls. You must register for this event in advance. We hope you can join us!
Spring Awakening Workshop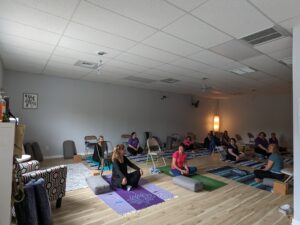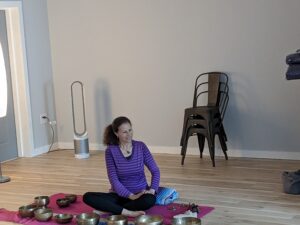 As the earth awakens from winter's cold and darkness, we too can awaken to the bliss of our own being. Join us as we flow through poses to open and decompress the spine. Our afternoon of transformation will be concluded with the luxurious sound of Tibetan singing bowls.
This was a beautiful event! 
COVID UPDATE: Our classes are back in-studio. Please view our schedule for details. We continue to follow all cleaning and safety protocols to keep everyone safe and healthy. We can't wait to see you back at the studio!
Please follow Twisted Dog Soul Bar on Facebook, Twitter or Instagram for the most current updates. We can't wait to see you!
New and Beginner Yogis

Are you a beginner, haven't been to class in years or think you're not flexible enough for yoga?

  We have plenty of classes for you to try (and some FABULOUS reviews)!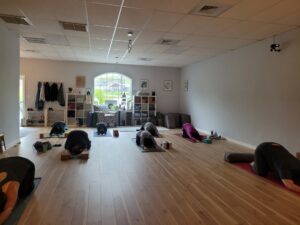 Plan to arrive 10-15 minutes prior to the start of class. Be sure to mention your level to your instructor prior to class and they will be able to provide guidance and modifications, if necessary. And don't forget your water! Now, time to relax and breathe!
Please click here for details on our Covid policies and guidelines.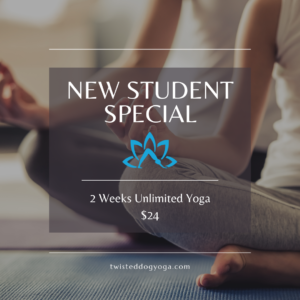 For new students only
~unlimited in-studio + livestreaming classes~
    Twisted Dog Yoga
    167 Lebanon Ave
    Colchester, CT 06415
Contact
Need additional assistance? Please contact us:
860-603-2387