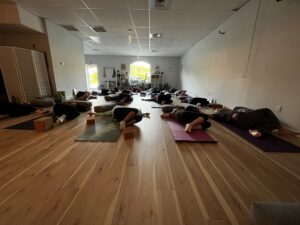 Our studio is bright, open and airy! With over 1,000 square feet of beautiful space,  it's the perfect setting to host private sessions for individual practitioners or bring together our community for local workshops, events or meetings. Our rental rates are affordable and dates/times are flexible.
RATES:
1-3 hour rental: $30 / hour
4 hour rental: $110 per session
To inquire about booking a studio rental, please contact Tracy at 860.603.2387 or twisteddogyoga@gmail.com.
    Twisted Dog Yoga
    167 Lebanon Ave, Suite C
    Colchester, CT 06415
Contact
Need additional assistance? Please contact us:
860-603-2387