New to our studio
yoga & soul bar
We are a studio designed for the young and the senior, the beginner student and the advanced, the mindful being and the one just learning to be present. No matter what your age, size, goals or level, Twisted Dog Yoga has a class that will cater to your specific needs.
Soul Bar is now open! We offer healthy, delicious smoothies, juices and bowls – no artificial ingredients here! If you'd like to order your healthy treat to enjoy after class, please pop in before class and we'll have it ready and waiting for you. If your class begins or ends after we close Soul Bar, please feel free to call ahead and we can do the same!
860-603-2387

New to our studio?
Welcome! We are so happy you've decided to join our community of amazing teachers and students!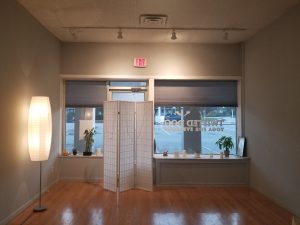 Here are a few suggestions to get you started:

~ Please register and create a profile with Twisted Dog (If you are signing up a child, please register yourself FIRST, then add your child as a Family Member and register them for the class / event)
~ Be sure to read, agree to and sign our electronic waiver
~ Purchase one of our New Student Specials, Class Passes, Monthly Packages, Series or Events / Workshops (view Prices and Events / Workshops )
~ View our online class schedule and book your class(es)
~ Arrive to 10-15 minutes prior to the start of class (entrance is in the rear of building) with your mat (we have extras if you don't have one yet) and water
~ Check-in with your instructor / tablet / Achieve App
~ Relax, breathe, stretch, strengthen and align!
New and Beginner Yogis

Are you a beginner, haven't been to class in years or think you're not flexible enough for yoga?

We have plenty of classes for you to try (and some FABULOUS reviews )!
Beginner
Gentle Flow
All Levels
Heated Slow Flow
Twisted 50+
Injury & Limited Mobility
Plan to arrive 10-15 minutes prior to the start of class. Be sure to mention your level to your instructor prior to class and they will be able to provide guidance and modifications, if necessary. And don't forget your water! Now, time to relax and breathe!

Candlelight Yoga on the Green

Twisted Dog Yoga | Soul Bar
15 Broadway Street, #2
Colchester, CT 06415
(entrance in rear of
building)
Contact
Need additional assistance? Please contact us:
860-603-2387