Flexspace
studio + room rental
During this time of Covid hybrid school schedules, at-home work sessions and isolating to keep safe, there is a need for safer and more flexible work + social spaces. Twisted Dog has options to help serve our community!
Questions? Call or email Tracy at 860.710.4939 or twisteddogyoga@gmail.com.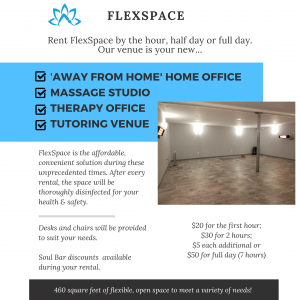 To reserve your FlexSpace Room Rental, please click here.
Twisted Dog Yoga
15 Broadway Street, #2
Colchester, CT 06415
(entrance in rear of
building)
Contact
Need additional assistance? Please contact us:
860-603-2387